Cadson Manor offers five star gold B&B and four star self Catering accommodation, and is run and owned by Brenda Crago from her family home in South East Cornwall. The original website for Cadson Manor had been created over a decade ago, and although it had been updated periodically, it was looking very tired and did not reflect the quality brand and experience that Brenda has created.
The brief was to create an elegant, soft, relaxed look for the website, with a floral motif to fit in with the fresh flowers and gardens that are a distinctive feature of a stay at Cadson Manor. We were also asked to re-write the content to give the website a more enticing feel and better search engine friendliness. We created content about golf, local history and places to visit around the area to make the site feel more complete.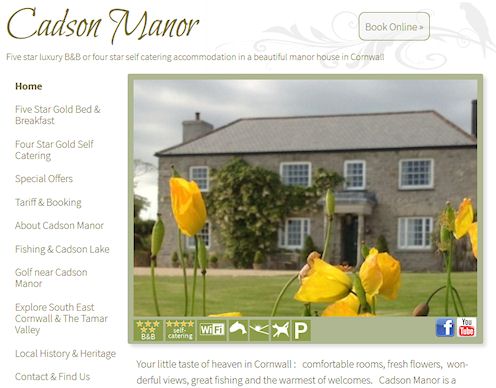 Click to see it live.
The site does of course adapt to different display resolutions and works well on phones and tablets.
You may notice the parrot on the floral motif subtly shown in grey top right – this was inspired by the Cadson Manor parrot Jewson, who is sometimes introduced to those guests who would like to meet him. We felt Jewson was part of the unique charm of Cadson Manor, and should be reflected in the design.