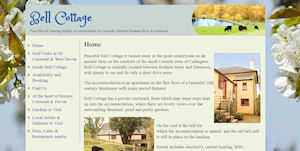 Bell Cottage, a brand new holiday cottage in South East Cornwall, needed a website that communicated the peaceful rural charm of the location, but also encouraged visitors to choose this accommodation because of its central location.
Because the accommodation is not the traditional Cornish seaside location, it was important to develop content that would emphasise the charms of a holiday spent in the Tamar Valley, West Devon and South East Cornwall, and convince users that a holiday at Bell Cottage was the right choice for them.  Holiday Accommodation is a market where people are likely to take many factors into consideration, and may be put off by lack of information or difficult navigation, so ease of use and plenty of detail was key.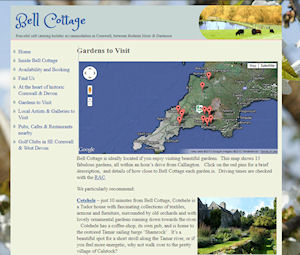 We worked with the accommodation owners to make the best use of their local knowledge and develop content that would encourage bookings.  We showed the cottage as centrally located for different kinds of holiday of interest to the target market for this website – for example, golfers, people interested in Cornish history, walking and garden visiting.