Marianna.G is an exclusive swimwear brand launching their first collection in 2013. We created their original site, working with their chosen designer, using WordPress as a content management system, with a heavily customised page layout to fit their simple and beautiful brand.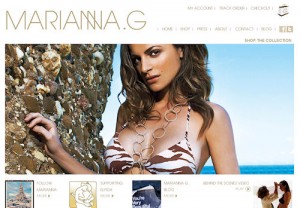 To add powerful ecommerce functionality in a way that was affordable for a new business trying to achieve an exclusive look within a budget, we used the WordPress plugin Woocommerce – again, customising the default layout to fit the desired elegant look and feel, including custom programming in PHP to achieve the desired features and layout.
The site takes payment using the Worldpay payment service provider and also via Paypal, and has a tiered system of delivery charges depending on where in the world the shopper is located.
You can see it here: http://mariannagswimwear.com/