The exact structure of your website and wording of the text throughout your site makes a big difference to your search engine placements. Minor changes to the copy and layout of the code can make the difference between position #1 and position #30. (The changes may not even have to be visible to your website visitors!)
We don't just submit your website to search engines. We know how to manage the promotion to make sure it attracts the right traffic – not just hits, but views from people who really want to do business with you. And we'll be there to help you make sure your website visitors don't just click away to the next site in the search results.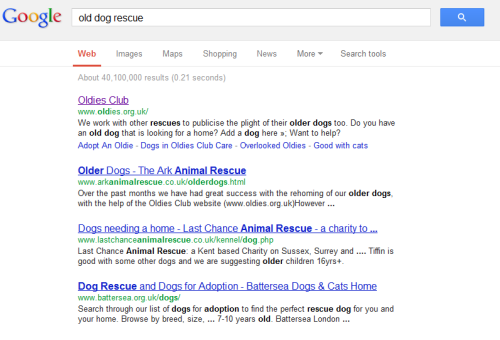 The Process
Some sites can increase traffic by 100 per cent or more by making a few minor changes to layout – the changes might not even need to be visible to site users. Other websites need days of work to get even the most basic results.
Site Evaluation
Our first step is to look at your site in detail. We'll answer questions like:
What promotional opportunities are suitable for this market?>
How tough is the competition?
Are there any technological barriers to search presence? (For example, did you know that some 'shop in a box' systems create websites that are completely invisible to search engines?)
How could performance be improved?
If you want, at this point we can give you a report so you can go away and fix the problems we've highlighted yourself.
Optimisation
This term covers everything from adjusting minor – often invisible – elements of the HTML code to ensure 'theme' and keywords are clear to search engines, to adding new content pages or restructuring the navigation system.
It's not just about amending metatags! The titles and text of your site, social media presence via twitter, Facebook, linkedin – how many other sites link to yours, and what sort of websites those 'link partners' are – these will all make a big difference to your promotional success.
We understand that your site has to appeal to people, not just search engines, and that there's no point attracting traffic if you can't convert it to enquiries or sales. We have copywriting expertise as well as coding ability.
We can change the pages and upload them directly, send to you for approval and upload, or provide a list of amends. You'll get a chance to see any visible changes on our test server for approval before they go anywhere near your live site.
Keyword Research
You shouldn't just be looking for top search positions. You want top search positions for relevant words that real people are searching for.
Hundreds of search engine programs will offer you 'guaranteed top positions' but that's only useful if you can be sure that there are people using those searches. We'll carry out a keyword and keyphrase analysis which includes:
Finding out which relevant searches are most popular
Identifying terms with multiple meanings (are searchers for 'amber' trying to find jewellery, the charity for the homeless or the actress Amber Heard?)
Identifying alternative spellings (web site or website? E-mail or email?)
Looking at what words competitor sites are targeting
Talking to you about your specialist insights into your market and clients
Website marketing isn't easy. We have experience and we get results. Let us help. Contact us now.