Have you ever noticed that some search ads come with a star rating and some don't? Here's what I mean: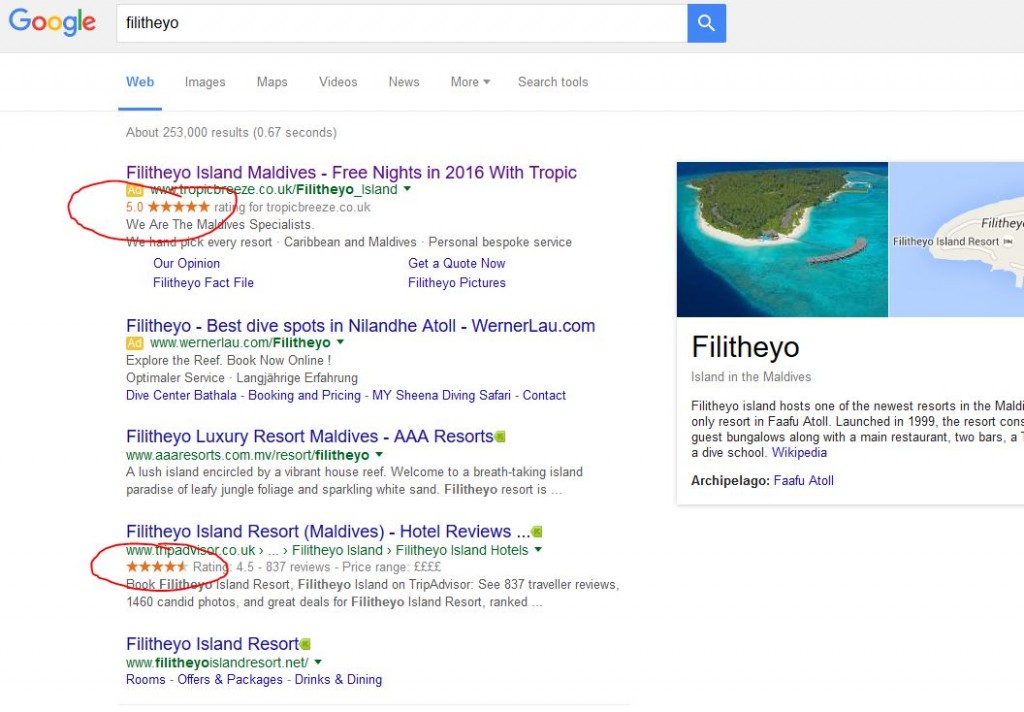 That's a search for a luxury resort in the Maldives. Of the top four search results, three are from tour operators and one is from TripAdvisor. The top two results are AdWords ads.
Of the tour operators (i.e. firms you could actually book your holiday with), only one has a star rating. And that rating is a perfect 5.0. If you're about to spend lots of money on the holiday of a lifetime, knowing that other people rated that company so highly will give you peace of mind. Let's be honest, that top result with the 5.0 rating and the "Free Nights in 2016" offer is the first one you're going to click on, isn't it?
So if you're an advertiser, how do you get those gold stars?
Google calls those gold stars "Seller ratings" (Bing has a similar device). Google gathers review ratings from a number of business review aggregators – companies that proactively ask your customers to review you. Then they match the reviews to the advertiser. To display your gold stars next to your paid or organic search results, you need at least 30 unique reviews of at least 3.5 stars or higher with these business review aggregators.
You don't pay Google for having the stars, but you will have to pay the review aggregators for their service*. We've done a bit of shopping around for this for clients and we came to the conclusion that for UK firms, Reviews.co.uk is perhaps the best value reviews aggregator. Unlike some of the aggregators, their pricing model works for smaller firms but they're still used by some very major advertisers. We've found them to be very easy to deal with and to offer very good service.
In fact, we are proud to say that we are now a Reviews.co.uk Partner Agency. That means we can manage your reviews collection process for you, offering you the benefit of our expertise and our close relationship with Reviews.co.uk.
Why bother? Because you'll improve your Return on Advertising Investment!
If you are running AdWords campaigns, and your competitors have star ratings and you don't, then you're at a big disadvantage. If you have star ratings and your competitors don't, then you have an obvious advantage. If everyone has a star rating and yours is higher (because your customers love you) then you have an advantage.
That advantage will be reflected in higher click-through-rates, higher Quality Scores and hence lower average cost-per-click. So you get more clicks for your money. Having a five star rating with an AdWords ad in position 3 may well get you more clicks than the ad without a star rating in position 1 – and you'll be bidding less for that lower position. More clicks for your money means more conversions for your money and letting your existing happy customers tell your potential customers that you're great will also raise the likely conversion rate.
In short, anyone spending a reasonable amount of money on Pay-Per-Click advertising would benefit from allocating some of that budget to reviews collection. And we can show you how to do that with the help of Reviews.co.uk.
* You might be thinking "Won't some of my customers leave reviews anyway, without me having to pay someone to ask them?" They may well do, but guess what – for many companies and products, people who write unasked for reviews are much more likely to be unsatisfied customers wanting to write a negative review. And you obviously don't want that.