What if I were to tell you that you could get $120,000 (about £72,000) of FREE advertising a year for your charity? Sounds too good to be true?

Well, actually that's the deal from Google's Ad Grants programme. It's all part of Google's "Don't Be Evil" philosophy. They will give eligible charities, even small ones, up to that amount of free Google AdWords advertising.
That's a fantastic deal, and if well managed, it can really help charities to raise awareness and raise money.
So which charities are eligible? You need to be registered as a charity with the Charity Commission (in England and Wales – the programme is currently not available in Northern Ireland or Scotland). Government entities, hospitals and medical groups, schools, childcare centres, academic institutions and universities are not eligible.
What about the advertising itself? Well there are some restrictions. Firstly, advertising cannot be commercial – if you are promoting goods and services, then 100% of the proceeds must go to the charity. However, that still allows you to offer merchandise for sale that supports the charity.
For example, we have a charity client that as well as asking for donations sells merchandise related to their activities.Using the free AdWords advertising, we were able to double their merchandise sales very quickly, providing a major increase in income to the charity.(And if you don't have an existing online shop, we can build you one.)
The screenshot below shows ads from two of our customers showing in response to the search "old dog rescue" (www.oldies.org.uk and www.grwe.com).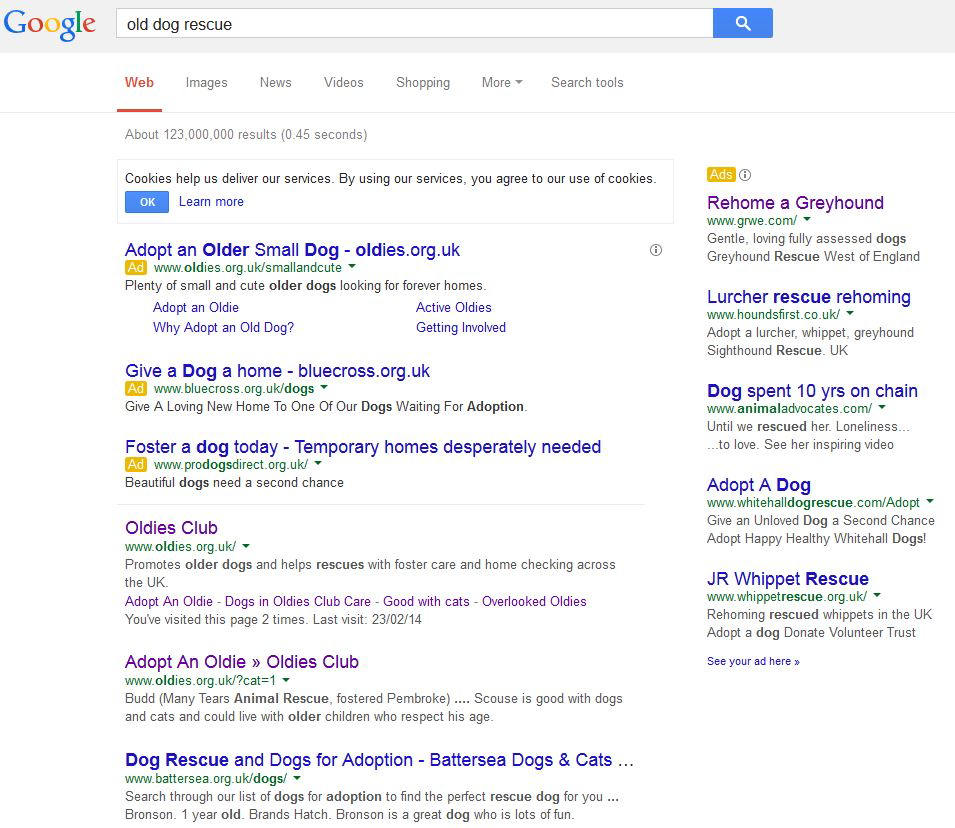 Our expertise with AdWords has resulted in our client that specialises in old dog rescue coming top of the results for "old dog rescue", while another of our clients (that rescues greyhounds young and old) is top of the righthand column. This isn't just a case of spending more money – getting top positions in AdWords comes from choosing the right keywords, making sure the landing page is relevant to the search and writing interesting ads. (Bear in mind that search results will look different every time the search is run.)
We have plenty of experience with the grant application process and can help you with the common pitfalls.


So how can you tell if an agency will do a good job for your charity? Look for the Google Partner badge. Agencies that are awarded this badge by Google a) have someone in the firm who has completed Google's own professional AdWords qualifications, b) manage at least $10,000 of advertising spend every 90 days and c) meet or exceed Google's own best practice requirements for agencies (we far exceed them according to Google's own ratings).
If you see someone offering AdWords advice who does not display the badge, then ask yourself why they don't have it. Either they haven't passed their exams, they don't have enough experience, or they don't meet Google's required standards. You should be demanding all three.
To learn more about AdWords, read our explanation here. In addition, Google has a very useful guide explaining what you should expect when you get a third party to manage your AdWords campaigns.
If you are looking for personal service, qualified and experienced professionals (who understand the voluntary sector) and people committed to your cause, we think we'd be a good choice. Call us on 01822 835802
01822 835802 or email us at info@clareassoc.co.uk for an initial discussion and to arrange a free consultation.
At Clare Associates, we can also help you to use Google Analytics to learn more about the traffic coming to your website. And we can even show you how to reduce your IT costs and get your paid staff and volunteers to work together more effectively using Google Apps.