Sometimes the best investment you can make in your business is to develop your staff. Too many businesses are too quick to recruit from outside their organisation – this can be expensive and it is difficult to identify the right candidate from a simple interview. (If you are planning on recruiting key staff from outside your company, talk to us about improving your recruiting process.)
Companies that develop their existing employees benefit in several ways:
You may not have the skills in-house to develop your people as much as you'd like.
We do.
Talk to us. We do not offer 'standard' courses. Instead, we work with you to tailor training to your exact needs and those of your employees. We can develop and present training to develop your people, and we can mentor selected employees (or you) for a longer period of time.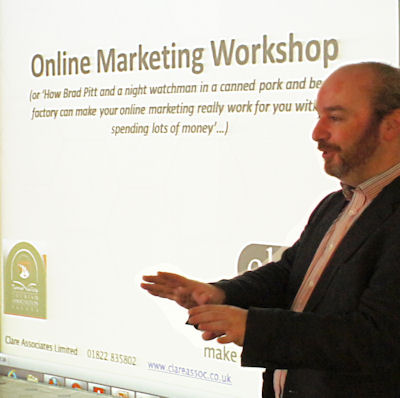 Available training courses
Click on the links below to learn more about the training we can offer you. All these courses are tailored to your company's exact needs. If you have a training requirement not met by one of the courses listed below, please contact us to see if we can help.
'Hard' skills training
Our backgrounds are in accountancy and '21st century marketing'. We have considerable experience in educating non-specialists in these concepts.
Financial training for non-financial managers
Financial training for non-financial business owners
21st century marketing for 20th century marketers
'Soft' skills training
What often holds employees and business owners back from developing their full potential is a lack of one or more soft skills. We firmly believe that these skills can be taught and what is more should be taught if you are to get the best out of yourself and your staff.
Presentation and Impact for Students
Leadership and team management training

Other training
Our credentials
Mark Poles comes to us from a professional services background. He is a Fellow of the Institute of Chartered Accountants in England and Wales, a Google Qualified Advertising Professional and a Google Analytics Qualified Individual. He has extensive experience in staff coaching and mentoring and has several years of experience developing and providing soft and hard skills training for professionals.
Mark also devised and helps to run "You're Hired!", a city-wide competition to develop employment skills in year 12 students in Plymouth. This competition, in its use of business simulations and skills training, has many similarities with the training Clare Associates can offer.
Victoria Clare has been providing e-commerce advice, SEO consultancy and website management services to businesses large and small for over a decade, including training in relevant e-commerce skills. Prior to that she worked in e-commerce skills training at the University of Liverpool and was marketing manager for an internet service provider.