Clare Associates provides a number of services aimed at schools, universities and students. We have considerable experience in developing young people's 'soft' skills like presentation skills, interview skills and making an impact.
Presentation Skills for Students
It's not just politicians and business leaders who need to be good at giving formal presentations.
With so many universities and recruiters of school leavers and graduates demanding excellent presentation skills, these are skills that young people need too. Given time, we can improve the confidence of the most nervous speaker and we can give an extra coat of polish to the performance of even the most experienced speaker.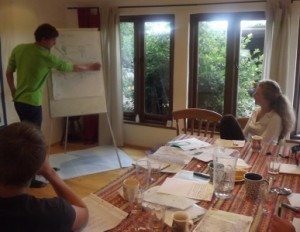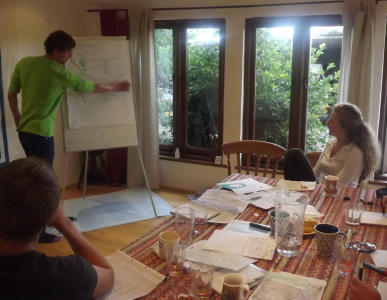 The presentation part of this course helps students to:
Control their nerves and overcome their fear
Establish a rapport with the audience
Write presentations that keep people interested
Know their audience
Communicate their passion about the subject to the audience
Create the right first impression
Enhance their presenting charisma and increase their impact
Use PowerPoint and Prezi effectively (and know when to avoid them!)
We use video cameras to show students what they look and sound like when they give a short sample presentation on a subject of their choice. This will initially scare many people, but we are very careful to create an environment where everyone is comfortable to make mistakes and to learn from them.
Making an Impact
Our Impact Training helps students to understand what impact they should want to make on other people (interviewers, colleagues, bosses etc) and what impact they actually are making. We then work with them to narrow that gap. We do this in a non-threatening, non-critical way that encourages people to identify their own weaknesses. People who identify a weakness themselves are far more likely to act on that than people who are told about that weakness by someone else.
The training covers the main elements of the impact that we all make on other people:
Confidence
Body language
Eye contact
Speech
Choice of language
Listening
'Small-talk'
Being effective in meetings
Team roles
How to be assertive without being offensive
How to offer praise
How to give constructive feedback
Appearance and dress
Social conventions and boundaries
Interview Training
Our interview training goes beyond the typical school mock interview. Mark Poles has considerable experience as an interviewer at one of the country's leading recruiters of graduates and post A-level school-leavers. The training includes mock interviews, but also covers:
How to demonstrate skills for the job by answering difficult interview questions
Extra-curricular activities that interviewers look for
How to excel in team assessments
How students can sell themselves and stand out from the crowd
Getting the right work experience and why this is important
The universities that the top recruiters target
How to Look The Part
"You only have one chance to make a first impression" is a cliche for a reason. Like it or not, other people make conscious and subsconscious assessments of us based on how we look – including how we dress. This training doesn't pretend to tell young people how to look good or be fashionable, but it does make them aware of the image that they portray to other people, including the kind of people who may give them a job.
Knowing the image you are portraying to others is a big part of your overall impact. When young people are less experienced in dealing with older people in positions of authority (such as bosses and interviewers), it is very easy for them to let their image detract from their ability in the eyes of the other person.
This training takes a light-hearted approach to getting young people to appreciate the image they portray and to think about the image they want to portray to the different people they deal with. The format is mostly group discussion based – we are trying to show the students what other people will think, not to dictate to them what they should and should not wear.
Business Simulations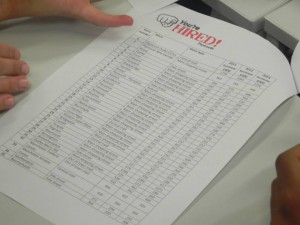 We prefer the term "business simulations" to "business games" because the purpose of these is not to have a fun time (although we do always make them fun), but to give students something of a taste of the sort of decisions they would make and the sort of pressure they would be under if they had high-powered jobs in business. It is especially useful to give young people experience of working under pressure in teams.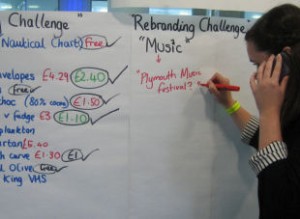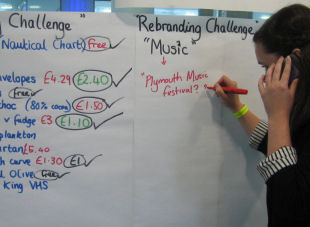 We can prepare and run a range of simulations tailored to the participants and the amount of time available, from two hour simulations right up to complex year-long programmes to really test able students. We will discuss the nature of the simulation with you and make sure to test skills that you want tested. A typical challenge might involve a marketing element, accounting and business strategy. Other elements can be added as required.
Arguably the most important element of our simulations is our debriefing stage. We use a combination of group discussion, direct feedback on results to teams and private feedback to individuals on their own performance. We can share any of this feedback with teaching staff as you see fit.
Personal Effectiveness and Time Management
As young people get older, and have more commitments – study, work, relationships, interests – they will find it harder and harder to fit everything in. Young children have parents to arrange their lives. Older children and students have to do this for themselves.
This training covers time management and how young people can use their time more effectively. We also help students to be more effective at what they do. Subjects covered include:
How to be assertive without being offensive
How to gain the respect of your peers
How to be innovative
Making the right impact on your fellow students, your work colleagues, your bosses and your teachers and lecturers
Making more time
Coping with email overload
Communicating effectively in the workplace
Time management and coping with conflicting demands
Avoiding distractions
Too many personal effectiveness courses or time management courses are little more than regurgitations of common self-help textbooks. Our approach is different because it focuses on the areas that the individual student struggles with. Where possible, we actually ask the participants at the start of the training if they have particular problems or areas they wish to work on.
Business Writing Skills for Young People

One of the most common complaints that employers have is that modern school leavers and graduates are unable to write appropriate business English. While it is overstating the problem to say that young people "only ever write as they would in a text message", few young people will have much experience of writing in a business context.
This training helps young people to write clear, concise text for business. Nothing gives a worse impression to potential employers than a badly written application form, or a misplaced apostrophe on a letter asking for work experience. Some people won't mind (or even notice) that a university project makes too much use of the passive voice – but others will, and that will affect what they think of the message.
This training goes beyond simple spelling and grammar. We show students how to produce text with real impact, including how to write 'calls to action' in advertising. We show them how to make text clearer and easier to understand. We help them to communicate the passion they have using the written word. We very much tailor the training to the audience. Typically we cover common grammatical errors, how to avoid cliches and jargon and how to write clear English. If required, we can cover the preparation of formal reports and presentations.
'Getting the Future You Want'
The decisions that teenagers make when they are teenagers have a bigger impact on their future happiness than decisions taken at any other age. Yet much of the advice they receive at this age is focused on "Do you want to go to university?" and "What career do you want?". Almost nobody asks teenagers "What sort of life do you want?".
This 50-60 minute talk encourages teenagers to think about all three of these questions – and to think about them sooner, while the future is still the future, rather than later.
We look at the advantages and disadvantages of going to university, and how those advantages and disadvantages vary with choice of degree and choice of university. We look at alternatives to university. We consider the implications of moving to London for a job compared to staying in Devon and use some real-world examples of living costs and working hours.
Workshops for Parents of Gifted and Talented Children
Parents want what is best for their children. This is especially true when the child is classed as "gifted" or "talented". But those parents won't necessarily know what the top universities look for or what the top employers look for.
We can run a workshop for the parents of gifted and talented children. I am able to draw on my experience of having studied one of the most prestigious courses at one of the most prestigious colleges at one of the world's elite universities and having worked in graduate recruitment at one of the world's top graduate recruiters. I know what it takes to get into a top university and I know what top employers want to see in their candidates.
The workshop includes sessions on:
Experiences and anecdotes from adults who were gifted or talented – what their parents did to help or hinder their chances at success
What to expect if asked to a top university interview and how to prepare
What universities look for apart from good grades
How to improve the impact your child makes and their skills in interviews
Hard truths about the graduate job market
How the top graduate recruiters go about attracting candidates and how students should use this information
The universities that the top recruiters target
The degree subjects and A-levels that top recruiters want
The other characteristics that top recruiters look for
Getting the right work experience and why work experience is all about acquiring skills
Using social media to be more employable
Testimonials
"Mark's session was an interesting and informative experience both for parents and for my colleague and I as G&T co-ordinators. He adapted well to our requirements and discussed the session with us beforehand to ensure that it fitted with the school's practices and philosophies. The session itself was a good mix of reinforcing messages that we already give, but with the added authority of a consultant of Mark's background, and new insider information drawn from Mark's personal expertise and experiences from having got into a top university and having worked in graduate recruitment for one of the world's top recruiters of graduates. Mark had clearly done his research into the experiences of G&T parents and students and gave particularly useful input into what top universities and employers look for"    
– Adam Killeya, Gifted & Talented Coordinator, Saltash.net Community School
"It reassured us that we are giving our child sufficient encouragement to achieve the goals they are setting for themself…(we were) especially encouraged by the comments from the 'gifted friends and friends of gifted friends' section, because it highlighted the fact to us, and others we hope, that you do need to be careful and maybe a little more creative in how you 'push' your gifted and talented offspring forward into the world."
– Parents of 'G&T' student at Saltash.net
"The course was one day of intensive training. Mark made us all feel immediately comfortable and welcome, due to the nice surroundings, relaxed atmosphere and several icebreaker activities. The course did not follow a 'set in stone' format as Mark changed the structure of the course to tailor it towards each individual so that each participant got the most out of the day. The course provided me with lots of confidence and skills for future presentations and any other professional situation, Mark also helped us iron out any bad habits we may have had. I came away from the course full of confidence and I had a very enjoyable day that was definitely worthwhile."
Jacob Barratt, course participant
"One aspect of the presentation training day that I especially liked was how personable Mark made it. From the offset he did very well at getting to know all of us in and what made us tick. His flexible structure then allowed him to cater to everyone's individual needs.
The main thing I took away from the day was increased confidence to present to an audience. I have, for example, just accepted a Zimbabwe Tourism project which I am going to present to the executives of the leading DMC in South Africa as well as the Zimbabwe tourism Board."
Stuart Dodgeon, course participant
"The presentation training workshop was excellent. I attended the workshop a little while before starting university, and after finishing my first term (in which I had to give presentations) I really feel that it was helpful in improving my confidence to speak in public. Being able to practice giving a presentation in a place in which I felt like I had control over the stress I experienced was particularly good in making me feel like I could control stress in real situations… I also enjoyed giving the (all male!) members of the group a bit of a rant on feminism… generally an unexpectedly fun day, with some stress but for a good reason – to help you feel better in the future."
Louise Williams, course participant
"The course was a great opportunity to both practise and develop skills, particularly giving a presentation. I was able to use feedback from Mark and others on the course to figure out my strengths and weaknesses and how to work on them. With Mark as a leader the course was a very friendly environment, everyone was very comfortable both giving and receiving criticism and we all worked together to help each other. Overall the course was very useful and with no set itinerary it was well tailored to help address everyone's needs both as a group and individually."
Ed Marshall, course participant
Our Credentials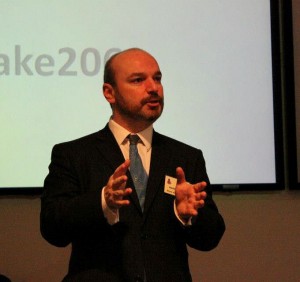 Mark Poles is a graduate of Magdalen College, Oxford, a Fellow of the Institute of Chartered Accountants in England and Wales, a Google Qualified Advertising Professional and a Google Analytics Qualified Individual. He has extensive experience in recruiting graduates and school leavers into one of the world's top graduate recruiters. He has both developed and provided soft and hard skills training for professionals (from new starters up to directors and partners) for many years.
Mark also devised and helps to run "You're Hired!", a city-wide competition to develop employment skills in year 12 students in Plymouth. This competition, in its use of business simulations and skills training, has many similarities with the training Clare Associates can offer – indeed, Mark developed the challenge for the two day final and two of the shorter challenges run by different employers in the heats.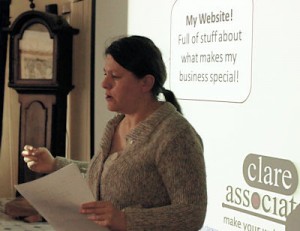 Victoria Clare is a graduate of St Hilda's College, Oxford. She has been providing e-commerce advice, SEO consultancy and website management services to businesses large and small for over a decade, including training in relevant e-commerce skills. Prior to that she worked in e-commerce skills training at the University of Liverpool and was marketing manager for an internet service provider.
Victoria has also provided her expertise to the You're Hired! competition.