If you already have a site, but it doesn't seem to be achieving much, or you think it needs an update –  our first recommendation is usually to install Google Analytics.
Google Analytics is a free website monitoring tool which gives lots of information about how people use your website. We find it's really useful to assess how your website is working, and find out how it could do a better job.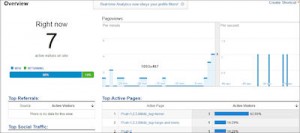 Once we have a few weeks' Analytics data, we'll combine this vital information with your thoughts on how your website has worked up to now.  We make a point of listening carefully to how YOU think it should work – after all, it's your business.  Business owners don't have to be web experts, but that doesn't mean you don't understand your customers.
Then we can start to come up with ideas and recommendations on how to improve things.  We might
change the layout round because the Analytics data has told us that many of your customers are unable to find some information. Or we might re-structure menus and content, or re-write code to make the site faster and more attractive.